Hello Gym Leaders! I hope that you are all enjoying the addition of Astral Radiance to Gym Leader Challenge format! It was an absolute joy to watch the intense battles unfold at the recent Full Grip Games GLC 2.5K event, which featured the largest prize pool ever offered for a GLC tournament!
GLC is Nearly a Year Old!
As the format approaches its first anniversary in July, there is a lot to celebrate! The format has been featured at official Pokémon TCG Regional and International Championships in the form of side events, some of which have featured nearly 100 players! Card stores are also hosting weekly Gym Leader Challenge events, allowing players more opportunities to make friends and enjoy unique battles around the world! It has been absolutely wonderful to watch the format grow and take on a life of its own.
I say all of this because I think it's important to take stock of where the format has been and where it is heading as it continues to grow. My mission in promoting this format has always been for players to have more opportunities to have fun, connect and express themselves through the Pokémon TCG. In order to inspire players to push the limits of Gym Leader Challenge, GLC began with no ban list. I wanted players to be able to explore all of the combinations of cards that have been printed in the modern era of the TCG. As the format evolved, however, it became clear that some cards were more closely aligned with the "spirit of the game" than others. I dislike banning cards from GLC. My wish with any problematic card or strategy is that the metagame will solve the issue and that no action will need to be taken. However, in some circumstances, such as the one we have seen with Colorless Control and the hand-lock strategy it employs, there are not enough reliable counter-strategies for decks to use against it, which detracts from the overall player experience and necessitates a ban. As the format approaches its second year of existence and continues to grow, it is more important than ever that players feel like they have a chance to play the game when they sit down at the table.
Chip Chip Ice Axe & Hiker Ban
Effective immediately, Chip Chip Ice Axe and Hiker will both be banned from Gym Leader Challenge format.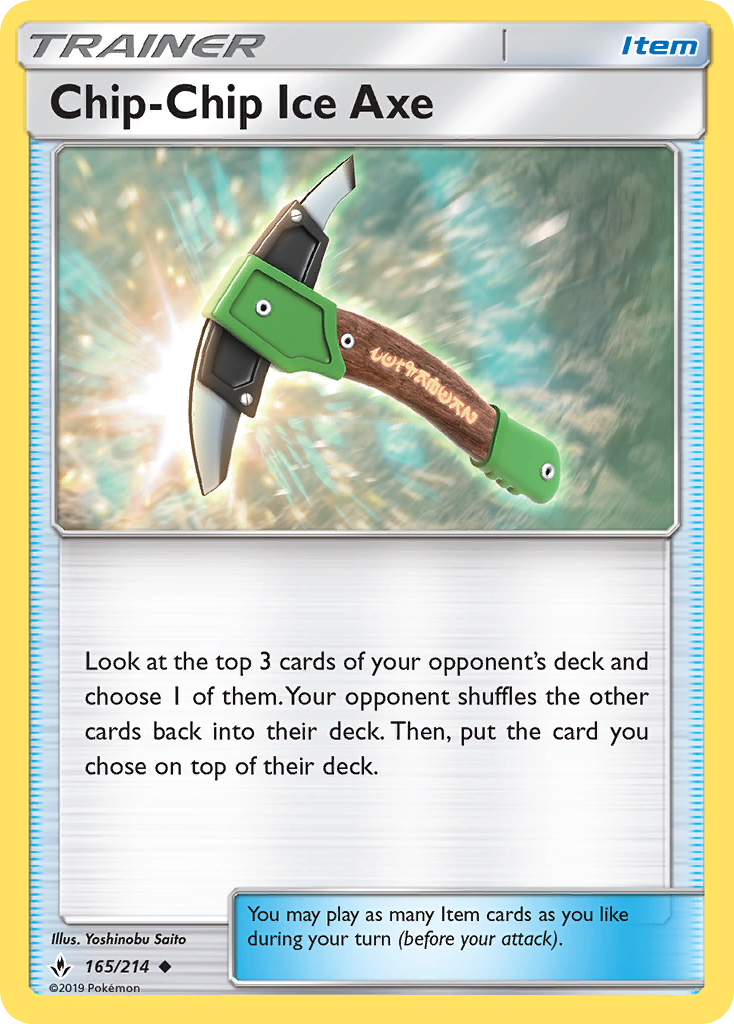 If you have followed GLC for the last year, you have no doubt watched Grant Manley refine his Colorless Control deck over the course of the Full Grip Games events, an effort which culminated in his winning the Astral Radiance GLC 2.5K. Despite the deck's problematic win condition, which keeps the opponent from playing the game by removing their hand and feeding them dead cards every turn, it was awesome to watch Grant push the limits of the format and display his passion for deck building with his unique control deck. If you would like to see the lock in action, you can watch Grant pilot the deck to perfection here, but basically it works like this:
Remove the opponent's hand with a combination of Reset Stamp and Delinquent
Control their top-deck with Chip Chip Ice Axe or Hiker to make sure that they don't draw any live cards for the remainder of the game
Because of recovery cards like Bunnelby PCR and Delcatty CES, the Colorless control deck can loop the hand-lock while using Supporters like Bellelba and Brycen-man and Hex Maniac to mill cards or shut down the opponent's Abilities. Very few decks in Gym Leader Challenge have a consistent way to combat this hand-lock, which is ultimately why Chip Chip Ice Axe and Hiker have been removed from the format. The hope is that this ban will allow for more creativity and expression in GLC through a healthier and more enjoyable format overall. If you would like to be a part of future Gym Leader Challenge format discussions, make sure to join the Tricky Gym Discord!
See You at NAIC!
It has just been announced that there will be THREE Gym Leader Challenge side events at this year's North American International Championships! It has never been a better time to be playing Gym Leader Challenge! Make sure to bring your Gym Leader Challenge decks to the North American International Championships if you are attending. Thanks for reading, and make sure to help spread the word about the recent additions to the GLC ban-list by telling a friend!
Train on!
-Andrew